The Leatherman Wingman is one of the multi-tool accessories for traveling and camping etc, which is rated as one of the best 14-in-1 multi-tool accessories. When going camping, or while working around the house, or giving a helping hand to the handyman, you may be in need of a good toll which serves many purposes alone. And then such multi-tools are often preferred. One must have such a kind at home to cater to needs while traveling, camping, and working with wires and cables etc in and around the house. Here is, therefore, a Leatherman Wingman review to help you gauge how useful this tool is going to be for you.
Overview
The Leatherman Wingman is a 14-in-1 go-to tool. This means in this one tool there are included 14 tools to give you various services. Hence, to understand the proper utility of the tool, one must go through the utility and list of all the 14 tools in it. This is a tool to fit in the pocket easily, and being lightweight it can be carried easily throughout. It contains a one hand operation blade which can be easily opened. There are spring action jaws in the tool which bring the two ends together snap on. The Leatherman Wingman is made by technicians from Portland in Oregon. And this comes with an unbelievable 25 years warranty.
[su_heading size="20″]Reviewing The Leatherman Wingman As Best 14-In-1 Multi-Tool[/su_heading]
back to menu ↑
About the product warranty
Besides the 14 fittings inside the tool, one of the most amazing features to enjoy about it is the 25 years warranty. Although the stainless tool is built to survive and serve for several years without any problem, yet it is backed up by this long warranty to ensure the customers about the high quality built of the tool. Any problem, fault, or damage will be repaired or the tool will be replaced within this warranty period. However, theft or loss of the tool or inappropriate use of the tool would make the warranty void. Also the color and imprinting, the sheath and polish of the tool are not covered in the warranty.
back to menu ↑
Features of the Leatherman Wingman at a glance
It contains a blade as a knife, which is totally lockable and easy to deploy
The tool is supported by a pocket clip. And you can replace the pocket clip. Using the clip the tool can be attached to a pocket.
One hand opening blade is there which accessible from the outside
A total of 14 tools are present
Dimension in the closed state is 8.8 inches.
Length of blade is 2.6 inches
Weighs 198.4 gm
Made from stainless steel
Built lightweight for easy carrying in pockets
Warranted for 25 years by Leatherman
Made in the USA
back to menu ↑
List of the 14 tools
Needlenose pliers with spring action
Wire cutters with spring action
Regular pliers with spring action
Pack opener
Combo knife of 420 HC
Scissors
Metal file
Small screwdriver
Philips screwdriver
Medium Screwdriver
Bottle opener
5-inch ruler
Can opener
Wire stripper
This means you can use it for working with wires and cables. Also, use it for cutting and shaping things. Or use it to open packs and bottles etc. You can take measurements with it or open and close screws with it. The tool is a great combination of cutters, strippers, openers, scissors, screwdrivers, files etc, and contains several types of varieties in them.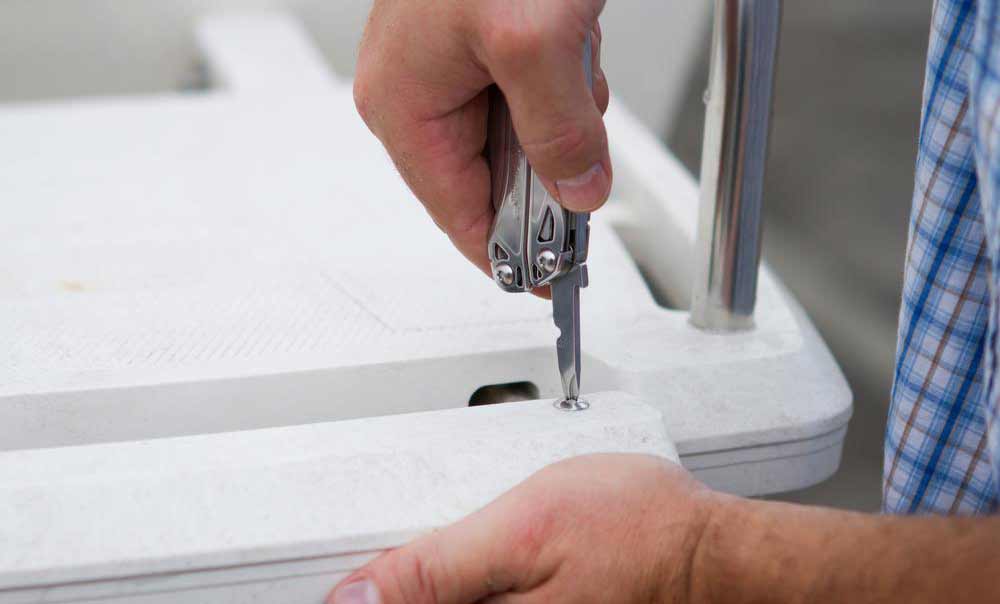 back to menu ↑
User reviews
Users experiencing doing jobs with it says it's a little bulky but yet not unmanageable. The pocket clip that it comes with helps it stay in place. The blade knife is also an ergonomic design. However, the scissors may have to be pushed more for the opening.
The mobility of the spring action pliers is smooth. The pliers can be opened at once and easily operated without much muscle power. Besides, all other tools are nicely positioned too. The amount of friction faced while opening and closing the tools is balanced really well in the best 14-in-1 multi-tool.
The Philips screwdriver also works pretty well. Don't go by its looks. You must use it to believe how good it works. The blade knife is very sharp and works smooth. Other items which work smooth and good are the package opener, the bottle opener, and the wire cutters. These are all sharp and strong for the actions.
In short, the tool is considered dependable by users, and this is why users prefer carrying it everywhere. The Leatherman Wingman review reveals a sturdy, compact, and easy to use make.
[su_heading size="20″]Reviewing The Leatherman Wingman As Best 14-In-1 Multi-Tool[/su_heading]
Pros
Some of the pros of the Leatherman Wingman are:
Compact size and yet easy to grip
Easy to carry for being small and because of the pocket clip
Immense functionality due to the availability of 14 tools
Lockable blade knife easy to use
Extremely versatile
Highly durable
Strong stainless steel body
Comes with 25 years repair and replacement warranty
Cons
Till you are habituated to use it the use, opening, and closing of few tools may not feel ergonomic
Could be made even lighter
The design may seem to be clutter initially
back to menu ↑
Verdict
Looking at the availability of so many tools within such small a steel body in such a compact manner, the cons can simply be highlighted as scopes for improvement, which the Leatherman range of accessories all gets with time. For the time being, the accessory, as per Leatherman Wingman review, serves as the best 14-in-1 multi-tool for use in many situations like camping, hiking, traveling, gardening, plumbing, electrical jobs, repairing of machinery and other things, basic handyman work, and as a multi-utility energy tool.
The accessory coming with 25 years warranty is actually a mental support that you will not be wrecking it while using, and it's a durable make. Yet if you break it then you have repairs free of cost and handy.
Continue read related articles:
 5 Survival Tools That Help You With Your Bushcraft Skill of Building a Shelter!
Feel free to leave any comment here!