Camping is one of the most popular activities. In the US alone, over 40 million people go camping each year. A memorable camping experience is determined by many things but even then, having the right gear is very important. Take tents, for example. They are probably the most important of gears in any camping expedition because they provide shelter and protection from the elements. TentTube: An Inflatable Tent That Can Be Pitched in One Minute.
However, setting up a tent can be a pain at times. Even though most tent designs try to make assembly as easy as possible, it doesn't always work out that way. Whether you are new to camping or someone who has done this many times before, there is always a terrible tent experience in your story.
Well, what if you can get a simple high-quality tent that can be pitched in one minute? I'm sure you have heard of many tents that have made such claims. But make no mistake, this one actually delivers. The TentTube is an innovative tent design that is easy to carry, simple to set up, and strong enough to play its role effectively.
How Does the TentTube Work?
The TentTube tent is an inflatable design. It can be folded and carried in a backpack easily. Once you are on the camping site, get it out, connect the air pump and start pumping. In just a minute, the tent will be pitched and will be ready for use. No assembly is needed at all. Just take out your folded tent and pump.
Traditional tents tend to be cumbersome to carry and painfully difficult to pitch. If you have gone through that experience, you know how stressful it can be. But the TentTube takes away this problem from you. It gives you the chance to enjoy the outdoors and your overall camping expedition without worrying about tent set up or assembly. And when you are done, the only thing you need to do is release the air, fold up the tent, put it back to your backpack and be off to the next camping site.
back to menu ↑
What Are the Benefits of TentTube?
TentTube offers a number of great benefits, especially when compared to your traditional tents.
Here are some of them:
Easily Portable – The TentTube is probably one of the most portable tents ever built. It can be folded and packaged in a compact way for easy transportation. The tent is also super light.
No Poles – We can agree that one of the hardest things when setting up a traditional tent is deciding where each of the poles goes. Even for an experienced camper who has set up tents before, there's just too much work. The TentTube doesn't have any poles to set. It's an inflatable design that only needs air pressure to work.
Quick Set Up – This is definitely one of the most important selling points for the TentTube. The idea that you can set up your tent in one minute is simply astonishing. But it's absolutely real. It only takes a minute.
Easy Storage – The biggest challenge with traditional tents, other than the fact that they are hard to set up, is often storage. They are bulky and quite cumbersome. Carrying them around and finding a place to store them while not in use can be very hard. The TentTube, however, takes care of this by offering a small and compact design that can fit into any backpack. You will not have any storage issues to worry about with this product.
Stability – The poles that you see in every traditional tent are key in offering safety and stability after assembly. But the TentTube doesn't have traditional poles. The product uses an advanced airframe technology that is actually more stable than steel frames. The tent is secured by four of these poles making the whole arrangement stable and safe to use.
Waterproof and Windproof – As we have already noted, the biggest role for tents is to protect you against elements when you are outdoors. This TentTube design is also highly resistant to the elements. It can protect you from heavy rain and strong winds without any issues at all. This is because the tent is made using the high-quality industry leading Ripstop technology making it perfect for any adventure outside. Also, you can visit KayakNV.com for more detail about the waterproof tent.
Enough Room – The last thing you want is to get cramped up in a tent that won't fit everyone. Don't worry though, you won't have these kinds of issues with the TentTube. When fully inflated, the tent can easily fit up to three people comfortably. It will also leave enough leg room to ensure everyone has enough space. Besides, the tent walls are lined up with pockets that can be used to keep all your other gear. This ensures that you don't have to use the limited space on the ground for storage.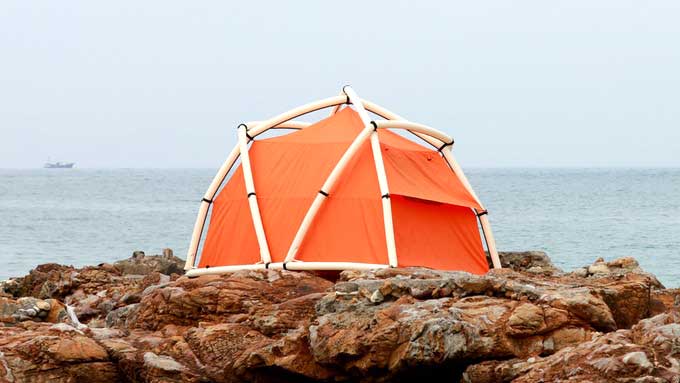 back to menu ↑
How to Get this Tent
TentTube is now available on Kickstarter. Anyone who preorders will get huge discounts on the first order of up to 54%. So, what do you get in the box in case you decide to buy? First, you will get a tent. It's neatly folded for easy shipping. In addition to this, customers will also get a carry bag. And since this is an inflatable tent, it won't work without an air pump. The box will also feature a small and lightweight air pump that can easily inflate your tent in a minute.
What really makes the TentTube so different from other traditional tent options is the cost. Even with its high-quality features and benefits, the TentTube is actually selling at less than half the price of your traditional tent. In essence, you don't just get cutting edge innovative tenting technology. You also get unbeatable costs too.
Going camping can be a great experience, especially for people who have the right gear. But don't let a bad tent experience ruin everything. This simple, affordable, and highly innovative TentTube will give you the best service.
Feel free to order Inflatable Tent / AirTent anytime on Kickstarter or on the main official website and enjoy the experience.