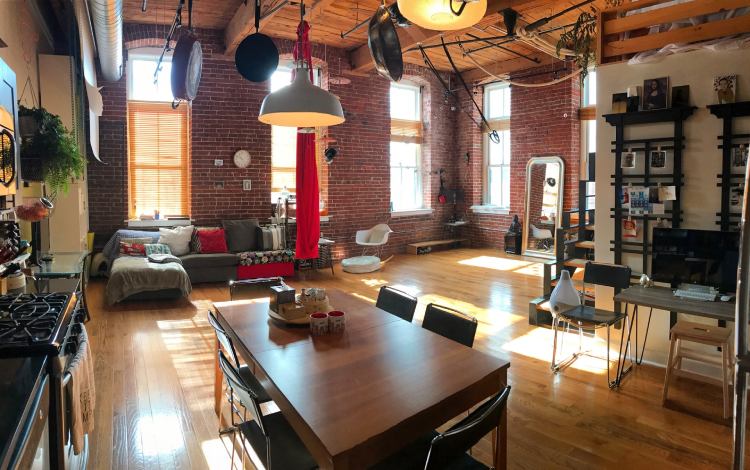 Hardwood flooring is a popular choice in the United States: it is timeless, beautiful, and reassuring. In terms of color and edge treatment, there is an extensive selection available. You may keep it simple or go all out with the theme. You may have been wondering what the best engineered hardwood flooring is, so here are some creative ideas for merging and complementing designs in your own house.
Which Engineered Hardwood Flooring is the Most Long-lasting and Reliable?
What is the deal with edges?
Your engineered hardwood flooring might have a significantly different overall look depending on how the edges of each board are treated. You may choose from the following:
back to menu ↑
Eased or micro edges
Between the boards, you'll see a minor, but noticeable line effect. In order to keep your planks from seeming too uniform, this is the way to go if you want them to stand out, but not in a bad way.
back to menu ↑
Square edges
They have a more organic appearance, and the spaces between the boards seem less distinct. The whole floor will appear to be unbroken. A fantastic choice for those who like having a lot of furnishings!
back to menu ↑
Plowed edges
These give the boards a nice, groomed surface shape. They complement minimalist homes with few prominent pieces of furniture and décor, as well as those with an Art Deco (think 1910s Parisian surrealism boudoir) or Neo-Classicist aesthetic (opulent, but timeless and chic.)
back to menu ↑
Scraped edges
Scraped edges are a great option if you like a more rustic, antique aesthetic for your hardwood flooring. These aren't just slapped on; they've been painstakingly scraped and sculpted by hand. For people who want to decorate their cabin like a hunter's cabin, this is a must have.
back to menu ↑
Is there a preference for style or color?
Here is where things get a little more difficult. After determining which engineered hardwood flooring is the most durable for your requirements, you may select from a variety of styles and hues, depending on the kind of wood you choose.
back to menu ↑
Custom Maple Hardwood Flooring
If durability is a must, maple is one of the toughest woods utilized in flooring. Maple wood is the material of choice for companies with high foot traffic, such as bowling lanes, indicating its resistance. Because maple is such a sturdy material, you may safely choose for lower-grade wood planks to save money, although maple is normally rather reasonable due to its abundance.
With its creamy, warm undertones, maple is a safe choice for any color scheme. A broad selection of colors may be used to design your space without fear of it clashing with your floor. Additionally, maple has a high degree of diversity in terms of wood grain patterns. The disadvantage is that maple is prone to scratching due to its smooth texture. Maple has a Janka hardness rating of 960 (soft) to 1470 (hard.) Keep this information in mind while comparing maple flooring options.
Maple hardwood flooring is simple to maintain. Sweep and dry mop your floors before anything else to prevent scratches caused by dirt and other debris on the floor surface. A high-quality dust mop is ideal for dry mopping followed by a light spraying of a biodegradable and phosphate-free hardwood floor cleaner. Additionally, it is recommended to mop up spills immediately to prevent stains. For this second cleaning phase, an absorbent wet mop is perfect (more details here.)
Paint your walls in warm hues like salmon, orange, and yellow to give them a welcoming feel.
Style tip: Make extensive use of carpets to reduce scratches on your flooring.
back to menu ↑
Red Oak Hardwood Flooring
The most popular option among homeowners is red oak. It is somewhat less resistant to decay than maple, but has a greater variety of hues. The undertones are more rosy, and the grains may range from medium to heavy dark in color and intensity. Oak is a more stable wood than maple, despite its lower hardness, making it a better choice for locations with high humidity and wide seasonal temperature fluctuations. Red oak, on the other hand, is not water-resistant, so use caution when deciding where to place the floor. Water has the ability to readily permeate the surface and stain it a dark shade of brown or black.
To begin, the cost is comparable to that of maple, but as the quality improves, the price may increase as well. When it comes to customized hardwood flooring, red oak undoubtedly has the most striking grain patterns. It is often utilized in classic settings, such as boardrooms or rural settings (perfect for hunting cabins.)
An old-fashioned dust mop would be the most effective cleaning tool. Sweeping and dry mopping should be done on a regular basis.
Darker shades like burgundy and olive may work well, but they may need a lot of natural light to make them pop. White may be the ideal choice for you: it's a timeless, subdued color that enables you to experiment more with furniture and accessories. You should absolutely choose a lighter hue for constricted areas. Make a point of using complimentary hues to visually widen spaces in your home.
Style tip: Combine elements of heritage and modernism for a less dramatic appearance. Bean bags, trendy accessories, and minimalist furniture may all work together to create a playful expression of red oak!
back to menu ↑
Acacia Hardwood Flooring
This is another style of hardwood flooring that is very durable (the Janka hardness of acacia is 1700, which is higher than both oak and maple.) Acacia's varied grain patterns and knots, as well as a variety of tan, brown, and tan-brown color options, make the wood visually appealing. Acacia planks are available in a variety of widths, textures, and structural configurations. With these characteristics, homes have more personality.
The advantages of this kind of flooring are its resilience owing to its high density, its resistance to fire, its resistance to scratches and dents, its ability to be recycled and reused, and its low carbon footprint during manufacturing. Frequent sweeping helps prevent scratches on the floor and maintains its mint condition. A good dust mop may also be used on a weekly basis. Additionally, the great density of acacia means that it may endure up to ten years before requiring refinishing.
Now for the disadvantages. Acacia is prone to shrinking when exposed to severely dry environments. The length of the boards created from this wood type is confined to between 1 and 4 feet. This is due to the shrub-like nature of acacia trees. As a result, the planks are much shorter than those made from more popular woods like oak or maple. Its striking look is another argument against acacia. Acacia's numerous patterns and knots might be too much for certain rooms, since they may clash with the decor. Keep this in mind when selecting colors and décor for rooms that will have this kind of hardwood flooring installed in them.  
To create a forest or nature-inspired atmosphere, a room should be painted in a dark or medium shade of green.
For the decor, go for a woodsy or forest motif.
back to menu ↑
Cherry Hardwood Flooring
Cherry is definitely your best choice if you're going for the most visual appeal. With a satin-like texture and an extremely smooth finish, cherry is one of the most beautiful exotic hardwood flooring materials out there. It is available in a variety of warm tones with both dark and light undertones. The grain patterns in cherry are some of the most complex among the several species of hardwood. As opposed to other hardwoods, cherry tends to be more expensive and more susceptible to stains. You should avoid installing cherry hardwood flooring in high-traffic areas.
Additionally, it's quite simple to maintain. It's critical to use the right cleaning products for cherry hardwood since it's so easily damaged by dirt, debris, and excessive moisture. For example, a basic broom sweep followed by dry-mopping with a high-quality old-fashioned dust mop should be sufficient.
Because cherry has such a striking appearance, a color palette of whites and grays is recommended here. Also consider using creamy variations of your favorite tones, or going big with a strong hue that is somewhat muted, such as a teal or azure blue.
It's ideal to use cherry in a contemporary setting with light and delicate furnishings.
back to menu ↑
Hardwood Hickory Flooring
Now onto another hardwood floor…and this one is even more durable! (Have you seen a pattern so far?) The Janka rating for hickory is 1,830 (much higher than acacia.) Hickory has an unique and rustic grain pattern and comes in a variety of hues ranging from light and creamy to dark brown and auburn tones. This kind of flooring is ideal for areas with a lot of traffic, such as a home office, a living room, or even the kitchen (especially matte hickory with a proper sealant.) Hickory flooring is ideal for any setting that involves a lot of physical activity. A high gloss finish is not recommended for locations where significant traffic is expected.
The benefits: It's scratch and dent resistant, just like acacia. The fact that it is water-resistant adds to its already impressive list of benefits. Therefore, it's perfectly okay to use a biodegradable and phosphate-free cleaner designed for hardwood floors. The best tool for this job is a wet mop with a super-absorbent material, but be careful not to soak your hardwood floor. Hickory and acacia are related in that both are resistant to mold development and may last for many years.
The disadvantages: Hickory is more vulnerable to moisture. Avoid placing this hardwood type in bathrooms and basements, particularly if the flooring is engineered hickory. The texture of hickory may expand in response to variations in moisture levels. Assure that the necessary moisture management is maintained at 13% for narrow plank widths and 11% for 6-inch-wide boards. If your house is susceptible to seasonal moisture issues, engineered hickory hardwood flooring is a great option.
Paint colors to use: lighter tones of blue, yellow, or gray for the walls to go with the matte light and creamy flooring (for households.); gray walls to go with the matte light and creamy floors (for businesses.)
Decorating a space with this flooring type is a matter of taste and personal preference.
back to menu ↑
Hardwood Bamboo Flooring
What type of hardwood flooring is more environmentally friendly than bamboo? None! What makes it environmentally friendly? To begin, bamboo is a form of grass that grows far quicker than the majority of trees. Bamboo one of the most sustainable plants since it grows to a mature height of over 50 feet in about 5 to 7 years. In addition to being eco-friendly, bamboo promotes a healthy indoor environment as well.
Bamboo has a Janka hardness of 1700 (vertical and horizontal) to 4700 (strand.) For high activity areas such as kitchens, living rooms, and hallways, this flooring is an excellent option.
With bamboo, scratches and dents aren't an issue. Sweeping, vacuuming, and dry mopping on a regular basis are all good techniques of preserving your bamboo floor. Moisture resistance is also a feature of this floor type. It's best to use a mop that's just slightly wet when cleaning. A biodegradable and phosphate-free hardwood floor cleaner along with a high-quality wet mop is a great cleaning combination. Bamboo flooring can also be refinished from time to time. Make sure to utilize eco-friendly floor shines!
The disadvantages: Heavy furniture items are prone to degrade the condition of the floor. Bamboo is available in a variety of hues ranging from light to dark boards. The walls should be painted a medium to light green or a light yellow to provide a good contrast to the floor. The light-colored bamboo flooring lends itself well to shades of medium to light blue.
Lighter furniture is the obvious choice for the room's decor. Rugs will also go well with this flooring.
back to menu ↑
Hardwood Vinyl Flooring
We've now discussed which rooms might be ideal for specific types of hardwood flooring. Allow us to introduce a kind of flooring that is ideal for areas that get a lot of moisture (most notably, the bathroom): vinyl flooring. As a result of its long life and resilience to moisture, humidity, and steam, it's an excellent option for bathroom installations. The vinyl will not shrink or buckle in any way, so you won't have to be concerned about this. You don't have to be concerned about scratches or dents since vinyl is scratch and dent resistant. It's still not a good idea to set heavy furniture on this flooring type without protection padding.
Additional considerations: Direct sunlight exposure to vinyl may result in a little discoloration. There is UV-protected vinyl hardwood flooring you can purchase. As previously stated, heavy-leg furniture should not be put on this flooring. Vinyl has the added benefit of being more cost-effective than stone or ceramic flooring while providing superior performance.
When it comes to cleaning, sweeping or dry mopping are both excellent choices. To make sure there are no traces of dirt, follow with a high-quality damp mop with a cleaner that is safe for hardwood floors.
A gray wall color is suggested to complement the white and black grain patterns. Nothing out of the ordinary. When it comes to décor, carpets are the best bet for keeping the floor protected (assuming it isn't UV-protected.)
We hope you liked our blog post about which engineered hardwood flooring is the most durable for your house!