7 Simple Steps to Setting the Perfect Table. Accessories you'll love and how to use them.
Whether you're entertaining friends or enjoying simple dinners with family, when you set the table, you set the tone for the entire meal. In addition to enhancing the food, a beautifully set table can have a positive effect on those who dine around it. The act of gathering together to share a meal means so much more than just eating dinner. Your table is a meeting place for love and laughter where serious conversations can be had, feelings can be shared and people can speak without judgment. Dining together helps ease the stresses of the day and builds healthy relationships.
Whether you're hosting a formal dinner party in the dining room or having a family BBQ on a backyard picnic table, put as much thought into your table setting as you do your menu and you'll be serving up memories that friends and family will cherish. Let every meal be a celebration. Set a table where you nourish the spirit as well as the body.
Choose linens that reflect the occasion
Every item you use on the table serves a purpose. Elegant or casual linens set the tone for the entire meal. Pick a color or theme and incorporate it into your table setting. Use a chic tablecloth or sleek table runner for a sophisticated dinner party and vibrant dinner mats or placemats for a family gathering. Decorating your table starts by choosing a common theme or color and tying the table linens to the dishes, centerpiece, cutlery, and serveware. Table linens such as tablecloths, placemats, table mats, runners, and napkins are the foundation of your table design. Placemats and woven chargers are today's modern lines. Fabric or braided placemats in vibrant colors create a casual setting, while neutral colors such as black or white tend to be more elegant. A floral tablecloth is great for a brunch and is perfect for a birthday dinner or an anniversary celebration. You can also choose the colors of your linen based on your dining room or patio décor, or to complement the dinnerware you'll be using.
back to menu ↑
Let the dinnerware enhance the meal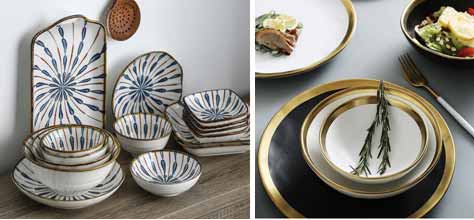 The perfect table setting provides guests with a feast for the eyes as well as the stomach. When everything blends beautifully, you're offering guests more than a meal. Choose patterned or multi-colored dinner plates for a look that's vibrant, festive or fun. Dinnerware enhances your food and the entire dining experience. Pick dinnerware that speaks to you. Is your favorite color teal? Choose a teal dinnerware set that makes you smile every time you take out a cereal bowl. Consider layering by using charger plates, followed by a dinner plate, with a salad plate on top. Stacking dishes and layering adds dimension to the table. A lovely patterned napkin that enhances your tablecloth creates additional glamour.
back to menu ↑
Choose flatware that's as impactful as your dinnerware
For decades, the "good silverware" was reserved for special occasions. Today, flatware comes in every shape and color. There's cutlery with patterned or textured handles, and silverware now comes in black or gold as well. There are so many wonderful choices when you set the table and several ways to do things right. Has elegant cutlery set for parties and special occasions and fun set for every day? Flatware is an inexpensive way to bring whimsy or elegance to the table. Choose from ceramic, enamel, or wood handles.
back to menu ↑
Entertain in style with gorgeous serveware
 Once guests get their hands on your gorgeous serving dishes, they may not want to pass the salad!  Quality serveware works double duty. It looks as incredible as the food it contains. Choose serving dishes that enhance your decor.  Using a navy tablecloth? Imagine how white bowls trimmed in navy would pop in contrast. Using eye-catching gold serveware? Pair it with gold cutlery. If your dinner plates are elegant and simple, choose serving dishes that add a bit of pattern or color. Striking crockery with a sophisticated pattern can elevate any look while organic tableware such as wooden serving bowls or straw bread baskets can add rustic charm.
back to menu ↑
Raise a cup of cheer to your glassware
Whether you have a full pitcher of water on the table with pretty glasses or you're serving cocktails before the main course, glassware also adds visual interest to your table decor, allowing you to serve beverages with class. Use drink coasters to add texture to the table, in marble, rattan, or vegan leather. Choose mini serving trays to hold coffee cups and teaspoons, or to give crystal glasses additional focus. All of the elegant tabletop decorative accessories you incorporate into your presentation will instantly add character and charm to your table.
back to menu ↑
Use tabletop accents as finishing touches
Nothing makes a statement on a dining table like a stunning floral bouquet in a head-turning vase. Use freshly cut flowers from your garden in several crystal vases that are grouped at the center of your table for a classic look that elevates both a casual or formal dinner. Whether you use small tabletop decor to add color, texture, or pattern, remember that your decorative accessories should be low enough to ensure guests can see each other and hold a conversation without needing to look over or around the centerpiece. Using simple accessories such as marble coasters or a sprig of greenery placed on top of each dinner napkin, the smallest touches work wonders as a table's finishing touch.
back to menu ↑
Set the scene with candles
For a warm and inviting ambiance, use candles to keep the mood soft and intimate. Make sure that guests can still see what's on their dinner plate, but remember that no one wants a harsh spotlight shining down on them during the meal. Candles can go a long way to creating a pleasant atmosphere, especially when you use colored glass candle holders in various shapes and sizes. Use candlesticks, headlights, and pillar candles in a gorgeous array of silhouettes to create a dynamic centerpiece. Mix and match styles or display identical candleholders in pairs for striking symmetry.
Setting the perfect table doesn't need to be an expensive undertaking. Use some of your favorite decorative accessories, showcase your mother's good china, or pull out your grandmother's silverware. Captivating dinnerware and sparkling crystal glasses create an ambiance of luxury that will impress the most distinguished dinner guests.
From decorative plates to decorative flatware, when it comes to setting a stunning table, the possibilities are endless. Choose tabletop decorative items that spark joy for you. For additional tabletop decor ideas, click here.