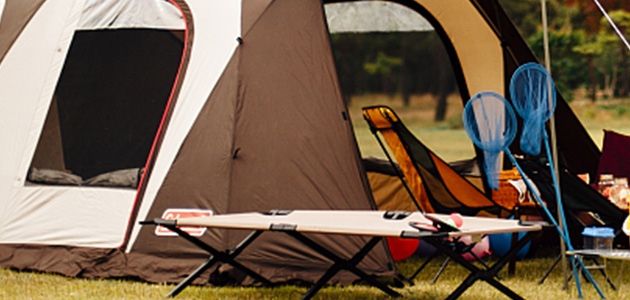 Apart from tents and bedding, the most common application scenarios during camping cannot be separated from sitting posture. Compared to sitting directly on damp lawns or mud, a comfortable set of camping tables and chairs can greatly enhance our sense of happiness outdoors. Whether it's drinking, singing, or watching the campfire dance in silence, a comfortable outdoor table and chair will instantly make outdoor life more comfortable. At campsites, in parks, on beaches, in wilderness, and on some uneven ground, people can sit down and enjoy nature more easily.
Compared to real indoor furniture, the biggest feature of outdoor tables and chairs is their convenience to carry and often have convenient folding or dismantling functions. They are mainly made of aluminum alloy metal and wood, with the former being lightweight and portable, suitable for certain hiking and camping scenes and the increasingly popular lightweight Glamping activity.
Camping chairs
We have reviewed five common types of 
camping chairs
 on the market to give everyone a preliminary understanding of these products and clarify their purchasing direction.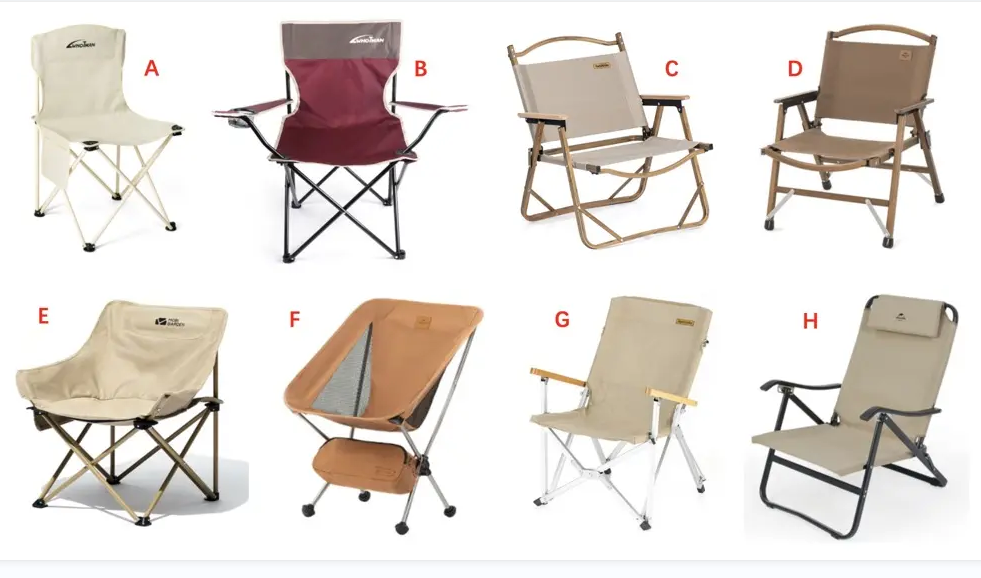 Small bench/Maza
This type of small bench is the smallest and lightest category among camping chairs. Many styles can be stored in the size of a mineral water bottle, which is very space saving. In addition to being used as a bench, it is also excellent as a storage box base, a high water bucket, and other camping supplies. There are various types of small benches, including the most common toilet styles and various folding stool designs.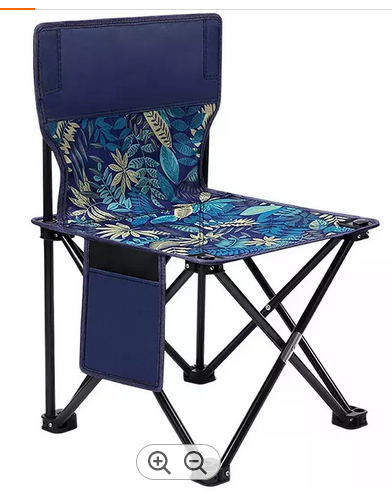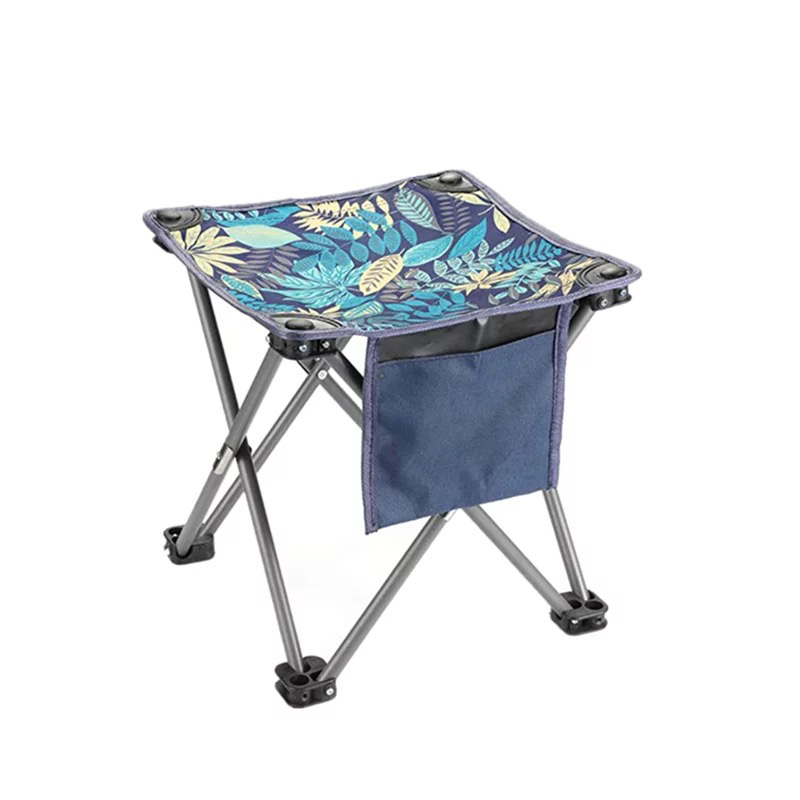 Due to their compact storage size, these products are particularly convenient for activities close to the ground such as chopping firewood and lighting fires, and can also be easily carried and carried. However, their disadvantage is that they are usually short in size and are not very friendly to large people when sitting upright.
Moon chair
The moon chair is one of the most common and comfortable chairs in camping activities. Its characteristic is that the chair surface presents a concave oval shape, which conforms to the shape of the human body. The sitting feeling is comfortable and enveloping, especially suitable for the most comfortable and relaxed posture of Ge You paralysis. Usually, a high-quality moon chair is composed of an aviation aluminum alloy bracket and an Oxford cloth chair surface, which is slightly larger than the small Maza and weighs about one kilogram.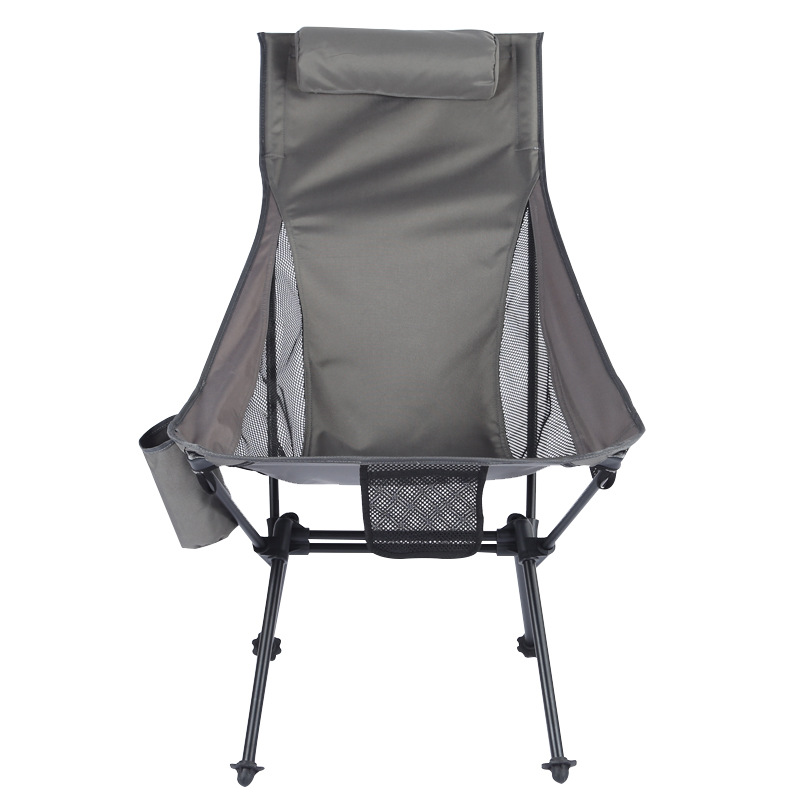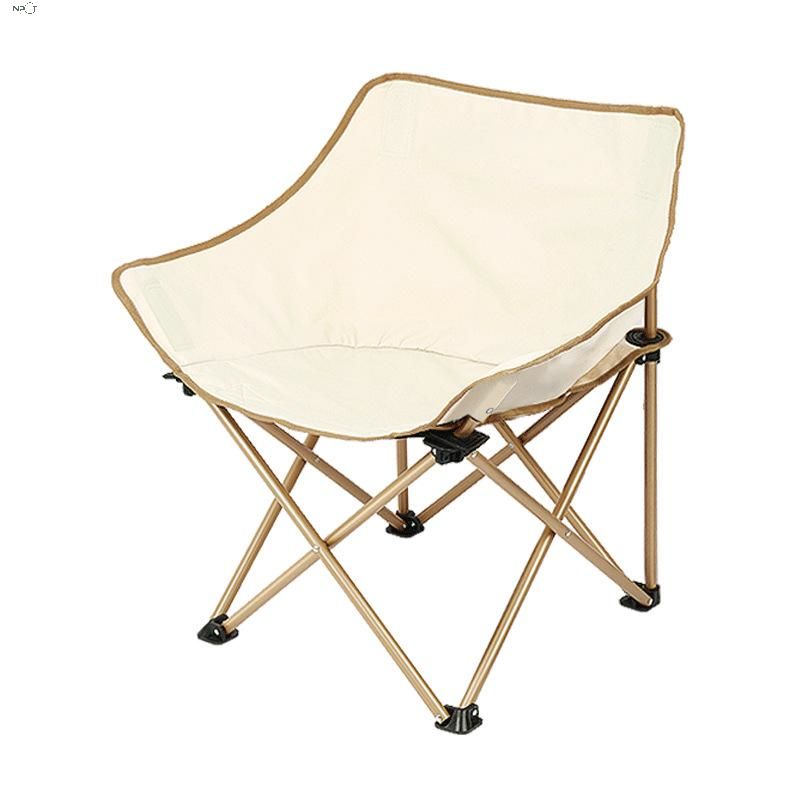 In the outdoors, the moon chair can adapt to the vast majority of activities, whether it is chatting, eating, fishing, or other styles with a sloping back.
Some moon chairs come in high back models, which are convenient for lying back and are more suitable for activities that require prolonged use. You can choose according to the usage scenario.
Wood grain aluminum chair
This aluminum chair has the most stable appearance and attractive appearance among all camping chairs. Whether it is made of solid wood or wood grain aluminum alloy, it looks exactly like the real outdoor environment at a glance. Moreover, the structure is sturdy and stable, and the natural texture of the solid wood style is excellent. The disadvantage is that the weight is larger, and the wood grain aluminum alloy is lighter, and the price is usually cheaper. It is suitable for users with limited budgets and pursuing cost-effectiveness.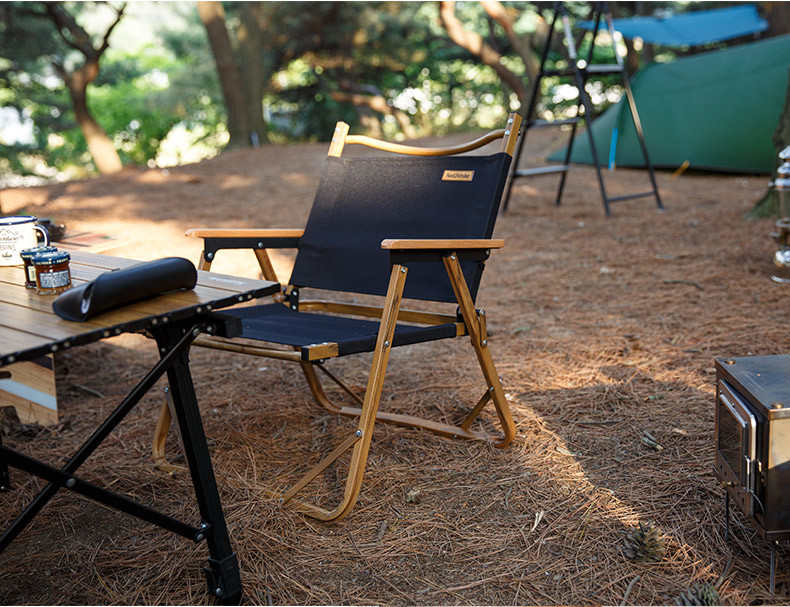 The classic Kermit Chair among the wood grain chairs was originally designed by the American outdoor furniture brand Kermit Chair and was entirely handmade from solid wood. The initial idea was that brand founder Kermit wanted to design a design that could be placed on a motorcycle for camping and spend long nights by a campfire.
The original Kemmit chair is handmade of white oak, which is expensive and heavy. Taking advantage of the advantages of domestic and international factories, there are many cost-effective alternatives. These products can be easily folded into flat shapes for easy movement, or can be disassembled into independent accessories for long-distance transportation.
This type of chair is more recommended for the aluminum alloy wood grain model of Noke, with two sizes of height and height that can adapt to different heights, which is quite considerate.
Folding back chair
The 
Folding back chair
is relatively diverse, but most of them are metal skeleton and cloth surface materials that are collected centripetally. The structure is similar to that of the household chair, different from the concave oval shape of the moon chair. These large folding chair have a flat surface, high stability, and a more vertical back curve than the moon chair. They are suitable for sitting at a higher size
camping table
. These chairs are usually larger in size, and their skeletons are more solid and stiff, The advantage of sitting tall and having a large size is that the limbs are relatively relaxed. Users who are taller or have stomachs are more comfortable to use, and there is no feeling of cramping their stomachs and thighs.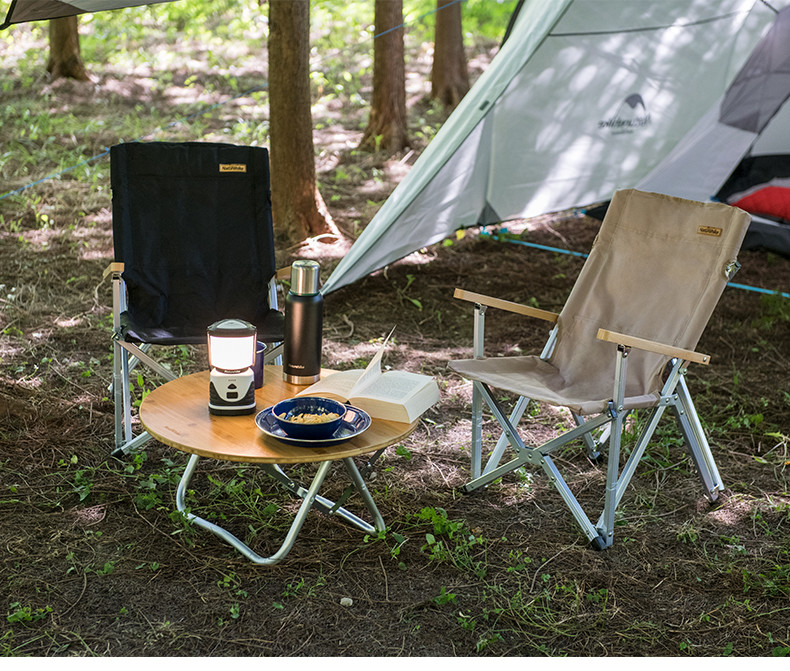 If weight and storage volume are not taken into account, this type of chair is undoubtedly the No.1 among camping chairs, with excellent appearance and sitting sensation. Common khaki and light brown green color combinations can also perfectly blend into the natural environment, especially suitable for multi day camping and some fixed campsites.
Double chair
Although it is called a double chair, this type of chair has a touch of a double sofa and is suitable for couples or camping activities with a large number of people. Many campers also call it a "sofa chair". This chair itself originated from the design of some campers in North America, with the intention of creating a small environment similar to a living room around a campfire outside the RV. The double chair is very spacious and comfortable. If a friend (sister) visits your campsite during group camping activities, the double chair can easily bring you closer to each other.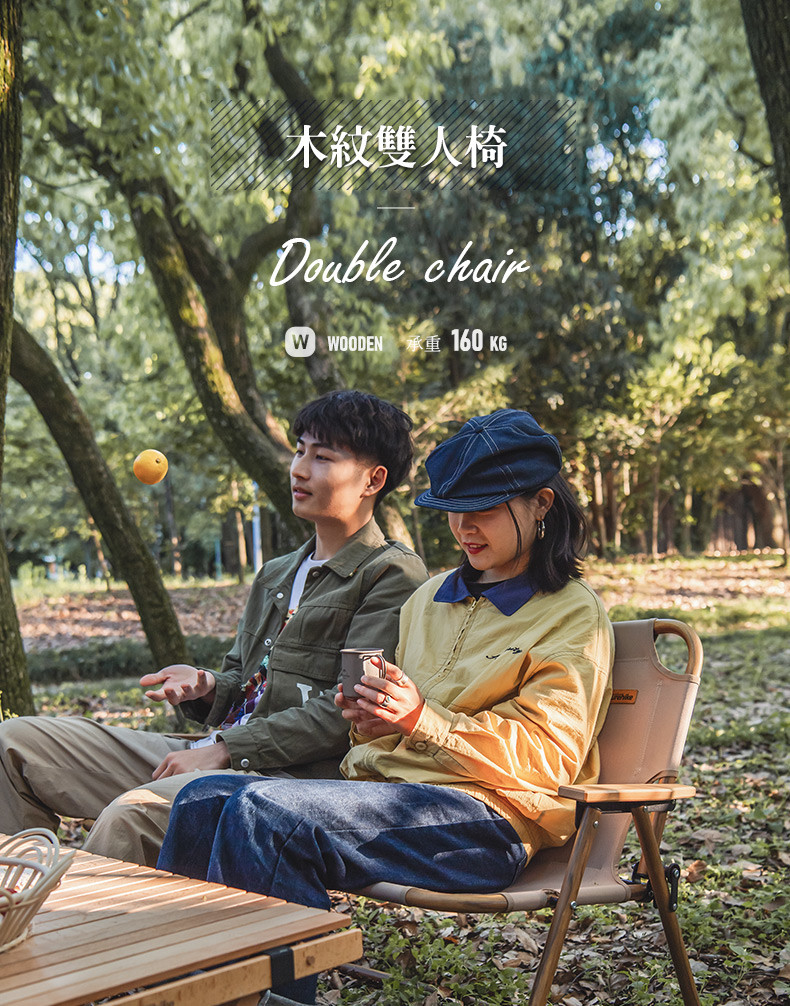 Camping Table
Not only camping chairs, but tables also play a crucial role in camping activities. In fact, the purpose of most camping activities ultimately extends back to surrounding tables, whether it's chopping firewood to make meals or toasting. The types of tables are relatively simple and can be roughly divided into the following types
Portable folding table
The vast majority of outdoor enthusiasts start from this type of table, which is generally divided into soft surface and hard surface. This type of table is the smallest in size and lightest in weight. The volume of the centripetal storage and roll storage table after storage does not exceed one foam pad. The physically strong hikers can even carry them for hiking camping.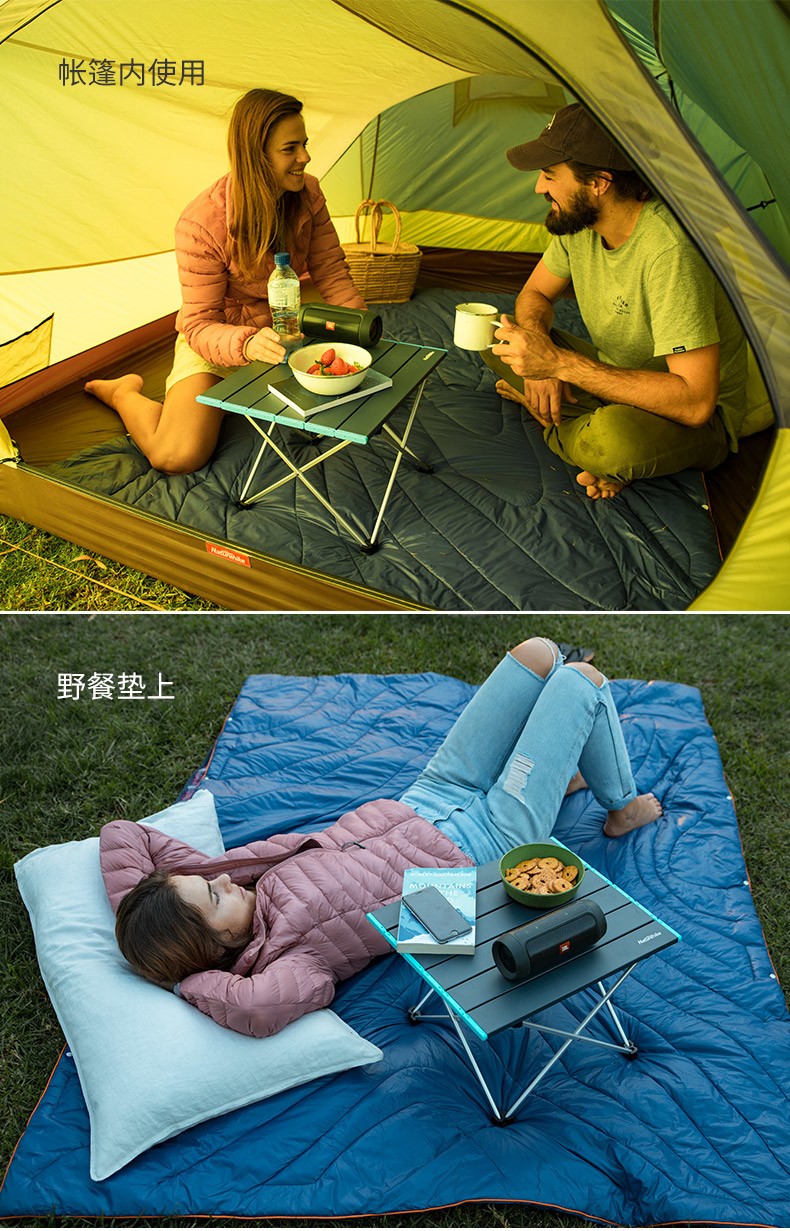 The soft folding table uses a cloth surface tension method as the desktop, which is the lightest and most portable. The disadvantage is that it is difficult to clean it immediately after getting dirty, and it cannot avoid the process of washing and brushing at home. It has poor load-bearing capacity and is difficult to adapt to heavy objects and large movements. Hard metal desktops do not have similar problems and are much more adaptable.
Roll-up Egg Table
So far, I still think that the Chicken rolls table is made for outdoor use. The combination of use area, appearance and price is a very excellent outdoor product. You can always see some desirable camping photos on social media. From the valley to the beach, from the forest park to the no man's land, the Chicken rolls table is the most likely item for countless Glamping style camping scenes.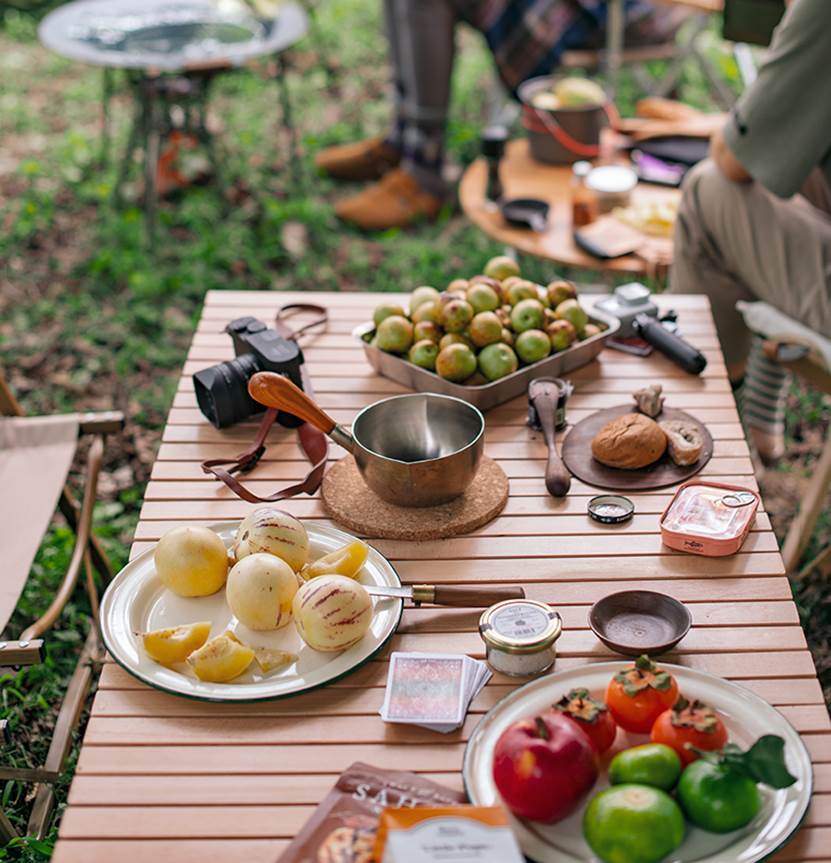 This kind of table usually has a large desktop area, solid wood and metal hardware structure is stable enough, and different sizes of wood can adapt to different consumption capacities and numbers of people. These advantages enable the Chicken rolls table to adapt to almost all camp activities that need desktop operations. The table, console, and even programmers work overtime in the field. You can imagine that it can be used almost perfectly
Metal telescopic table
As the name suggests, this type of camping table has a highly retractable function, especially in some campsites with uneven ground. Another advantage of being able to adjust the height of the table is that it can easily match various styles of camping chairs, with high flexibility.
Combination table
This type of table is relatively rare in camping activities. The combination table can be freely assembled like building blocks in structure, and theoretically can be infinitely large, suitable for the Chinese round-table banquet habit. The middle gap is designed to place a fire burning platform or directly build it on the campsite fire pit. Imagine everyone sitting around under the stars, watching the hot soup boil and the flames change. Isn't it beautiful~
After learning about many camping tables and chairs earlier, there are several points to pay attention to when purchasing camping furniture:
Before truly acquiring your camping tables and chairs, you can try out your friend's equipment first. Different body shapes and sitting positions, different applicable scenarios, and the level of comfort that everyone personally experiences will vary. Personal experience is very important!
2. Some chairs may be suitable for sitting in a daze, but when it comes to cooking, there may be discomfort of feeling trapped in the stomach or legs. Some tables are more than enough for making tea and snacks, but there may be insufficient space for multiple people to interfere with each other during meals.
3. After considering these usage scenarios, it is advisable to calculate the storage space in the trunk of the car again, as equipment is the most important when playing outside~
Basically, the storage volume and comfort of camping furniture are inversely proportional. Storage volume usually means better stability and support of tables and chairs, at the cost of considering more reasonable storage space. Flat tables and chairs may need to be stored and laid flat before stacking other equipment. Tables and chairs stored in the center can be flexibly placed according to their weight and volume. Whether it's the trunk or luggage rack, try different combinations of placement to find the most suitable way.
5. Camping tables and chairs are used together, so homework should be done in advance to clarify the height difference and size. When selecting chairs, consideration should be given to the combination of the chair surface and the table, and vice versa. High chairs should be paired with high tables and low chairs with low tables to avoid the discomfort caused by height differences.
6. Buying camping furniture is like camping itself, and it is difficult to truly get it right at once. Depending on the number of camping trips, the environment, the number of people, and usage habits, there will gradually be different experiences and needs. Friends who want to start their outdoor camping life can start by buying a chair and sitting down outdoors to enjoy the beautiful scenery.
KASSICO, a leading aluminum box factory in Ningbo, China, has 21 years of production experience. Since 2015, combining the advantages of camping kitchen boxes, KASSICO has expanded its business scope to outdoor camping gear and equipment, including design and supply of camp kitchenware, camp furniture,camping tent, camping lights and tools, etc. With multiple sets of outdoor products solutions, kassico provides customers around the world with hundreds of innovative and affordable outdoor products, we will be your reliable suppliers, and we will try our best to serve you better and to be your honest partner.