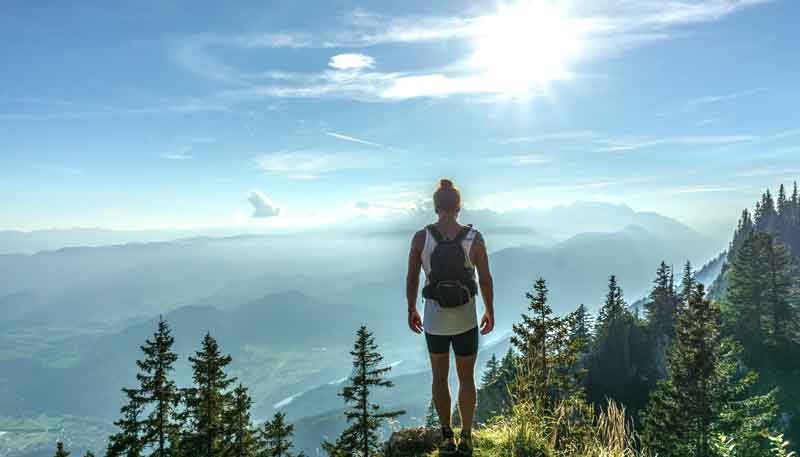 Walking is a great way to get fit and feel good and can make you feel a lot better, look a lot better and overall, ensure you're healthier.
Apps are a great way to keep a new fitness regime on track, help you navigate and track your fitness and these are the best.
Abvio Walkmeter
This iPhone app utilizes GPS technology to measure distances when you walk or hike. Actually, Abvio keeps continual records regarding your speed, elevation, distance, location, and time. You can view your results on maps, a calendar, or a graph, so you can look at comprehensive results like how many miles you have totaled in one month. This app can be motivating to get moving since you have the chance to compete against your previous best times.
GB Nat Parks
This app lets you enjoy full access to looking over Britain's fantastic national parks on their UK 1:50K Ordnance Survey maps. This can happen as soon as you install the app, so you don't have to worry about downloading a thing. It works well any place that you are, and you don't need to worry about planning for the future or having online connectivity. The included maps are accurate and clear, but you should keep in mind that 1:50K doesn't really offer you fine-detail viewing.
Macs App.
The Macs App gives you personal access to global mapping, which many other options on this list offer, but with this, you can get it for free! The app has a lot of pre-loaded tours, so it's a great backup option to have in your pocket when you think you might be a little lost. It can run in flight mode, which saves you both roaming charges and battery power. You'll also keep interruptions like emails and notifications to a minimum when you're enjoying the wilderness. If you'd like more information or just want to download this app, type in "Macs Adventure" into the Google Play store or the App Store.
Memory Map
This mapping application will let your iPhone work as an outdoors GPS. It lets you view as well as navigate using Ordnance Survey maps, topographical maps, and even aviation or marine charts if you need them. The maps are stored offline so you're able to use them even when there's no active phone signal present.
Outdoors Great Britain
This app offers a full range of all the Ordnance Survey maps in one place. The price curve can be quite steep, but once you download maps to your iPad or iPhone, you get them for the rest of your life. Outdoors works anywhere, whether you have a phone signal or not. However, if you do have an online connection, it'll identify your location in just seconds. You can pick out maps based on your favorite areas to walk.
RouteBuddy
This app supplies you with the road, aerial, topographical, and even Ordnance Survey mapping so that you can get help anywhere you are or are going. This app is a powerful route finder, but you would need to purchase each Ordnance Survey map that you need. The biggest advantage behind it is tremendous way-point functionality. There is a premium app, but the RouteBuddy Atlas for iPod touch, iPad, and iPhone is free if you get it from the iTunes store.
Sustrans
If you want ideas on where you can take a walk, the Sustrans app gives you routes and details of over 25,000 miles of cycling and walking networks across the United Kingdom. The Sustrans charity created the app with the aim of helping people do more of their daily travel by bike or on foot.
 Viewranger
Viewranger stores its maps on your phone so that you can use it even when you don't have mobile coverage. This app will display those maps, record your tracks, help you out with navigation, and even highlight points of interest you can visit along your journey. When you have an active internet connection, then the app will even show you what your actual positioning is at that time too. You'll also be able both store and share the routes you take.
There is no excuse not to get out and about, even if you need shoes for plantar fasciitis. There is a range of ways that this low impact exercise can benefit you.