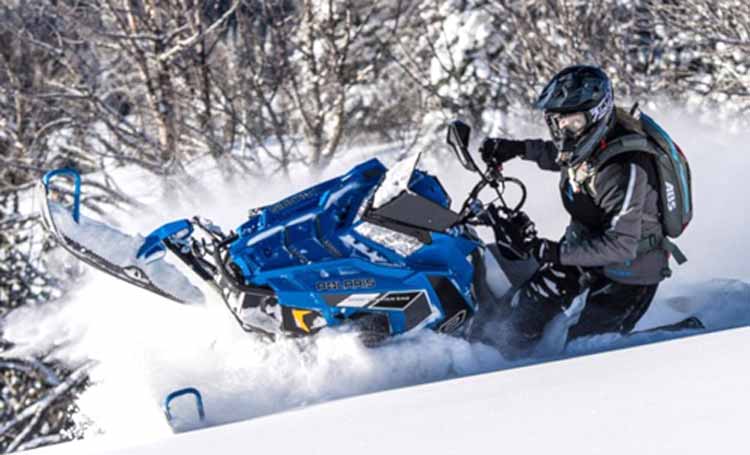 More and more people are buying Snowmobile Helmets more than ever before. And it's not hard to see why. Snowmobiles may be seasonal purchases but nothing beats the feeling of cruising on the snow using a motorized vehicle specifically built for the snow.
Snowmobiles are however not toys. Modern designs can deliver a lot of torque and hit very high speeds. In that case, it is always advisable to take all the safety precautions needed to protect yourself. Several things would make a snowmobile safe to ride. Most of these safety features come already preinstalled in the vehicle.
But even then, you can still do your part in enhancing overall safety. One easier and perhaps most recommended thing to do is to wear the best snowmobile helmets every time you ride. There are many benefits associated with this and we will be covering them all in detail below.
What Are Snowmobile Helmets?
Before we get to the benefits of using a snowmobile helmet, let's, first of all, break down what they are. To put it simply, a snowmobile helmet is a safety accessory designed to protect you against serious head injuries in case of an accident. Think of it as the normal motorcycle helmet only that these are designed for the snowmobile.
back to menu ↑
Types of Snowmobile Helmets
The best snowmobile helmets brands have evolved a lot over the years as they look to meet the tastes of different people and the demands of various snowmobile sports out there. However, there are four main types of helmets.
Here is a breakdown of each of them:
Full Face Helmets: As the name suggests, a full-face helmet covers every inch of your head and your face as well. The helmets have two main advantages. First, they will provide better protection in case of an accident. The helmets also protect you against the cold, a huge advantage for people who ride at higher speeds.
Motocross and Snowcross Helmets: For active riders who ride snowmobiles for sport these would be the ideal helmets for you. They are more like the full-face helmets but they don't cover your face. Instead, you get a pair of goggles that give you a bigger field of view. This design allows for natural ventilation to go through inside your head, making it ideal for sports racing that may cause a lot of sweating.
Modular: Think of the module helmet as the full face option only that the face cover is not fixed. You can lift it and expose your face for better vision or just to air out your head after a long day of riding. The only challenge is that it does not offer nearly as much protection as the full-face version.
The Dual Sport: This helmet is shaped exactly like the MX helmet. It features a face shield as well but unlike the full-face helmet, it offers a better field of view and excellent ventilation.
back to menu ↑
Safety Ratings and What They Mean
The primary purpose of the best snowmobile helmets is to protect you. But some brands do a better job than others. This is where the safety rating comes in.
Right now there are three main safety ratings that you can see on each helmet. The first one is the DOT rating. This is the minimum safety standard. The DOT rating is issued by the United States Department of Transportation. Helmets must meet certain standards set by the DOT to qualify for the rating.
The second one is called Snell. Snell is a certification program that tests out different helmets for their safety. It's an independent nonprofit organization and is considered one of the most authoritative names in helmet safety in the US. Finally, there is the ECE rating. The safety standards for the ECE helmet ratings are set by the Economic Commission of Europe. They are similar to the DOT standards but they have additional criteria.
Either way, the helmet you decide to buy must have any of these safety ratings. It's an indication that the product has gone through rigorous safety tests and has met all the safety standards set by recognized quality assurance bodies in the transport industry.
back to menu ↑
Why You Should Always Wear a Snowmobile Helmet?
Wearing the best snowmobile helmets has several benefits. First of all, it's a must-have safety accessory for any snowmobile owner. This is because the helmet reduces the risk of serious head injuries in case of an accident. Head injuries account for the highest percentage of deaths during accidents. A snowmobile helmet, therefore, increases your chances of surviving and resuming your life without serious damage.
The helmet will also protect you against tough weather. Ridding on the snow is exciting but the cold can be a mood killer. (Read here for 13 Tips On How Not to Die in the Snow) The helmet, however, takes care of this. It protects you against the cold, making sure you can enjoy your snow rides anytime. Wearing a helmet will also make it easier for you to file insurance claims in case of an accident. In most cases, insurance companies are more likely to contest claims if the rider was not wearing a helmet at the time of the accident.
Helmets may also make you more visible to other road users. This reduces the risk of accidents as well. In some cases, helmets kill wind noise and this makes it easier for you to focus on the road. You are also able to hear easily. This means that you can easily take note of sound signals and be aware of your surroundings as you ride.
back to menu ↑
Conclusion
Riding a snowmobile is an exciting thing but safety has to come first. Wearing the best snowmobile helmet with the best snowmobile lift goes a long way and with the amazing variety of quality brands to choose from, it should be easy to get a helmet that protects you all the time.
There are also different designs and types, some of which we have highlighted above. Ultimately, you want something safe enough even if it means spending a little extra money. It's also not a bad idea to have more than one helmet for different occasions.