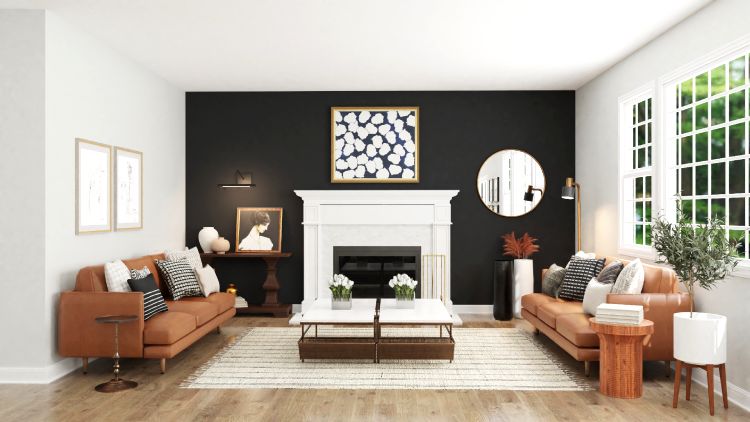 Wall paints determine the actual effect of the interiors in your home. While playing safe can be the underlying thought, you should not stop looking for your perfect color until you feel content with your choice. With a little bit of research on options, you can always discover a shade to redefine its personality and aura as per your imagination. So, before you settle with any typical tone of white or pink, or blue, browse the universe of house color ideas and compile your list by room. Here are some suggestions to help you in this regard, though. Let's go through them quickly.
Continue to read to learn how to make the best house color ideas interior of different rooms.
House Color Ideas Interior for Different Rooms
Foyer or Hallway
Do you love green? If you are wary of the darker tones and prefer lighter tones for their calmness, you have found the right thing. The mint green paint can easily add character to any part of your house, especially in the area leading up to the staircase. You can include brick accent walls, wall art, dresser, and other elements to balance the whole look in the surroundings.
Or, if you don't mind being experimental and bold, neon pink walls can be the best thing to create an instant impression on your guests. Making it a part of your foyer can be pretty welcoming. After all, not everyone thinks much about their hallway, which deserves more attention for being the first to invite people in and present your house to them.
back to menu ↑
Living Room
When all you desire is an impactful decor, you cannot ignore the choice of putty-colored gray. You can add touches of lavender and pink here and there to give your seating area an unusual vibe. The living room will stand out for sure as it is not too light, which can invade its liveliness. For those who are all about adventure and fun, bold red and lavender tones can be the way to let their personalities out in an exciting manner. You can complement the spirit with colorful throw pillows on the couch. Are you unable to visualize this? Imagine the wall behind your sofa in red and ceiling lavender with throw pillows resting on the couch.
Some homeowners tilt toward neutral shades for comfort. They may disapprove of white walls for their starkness and beige for sounding boring. For them, pale green pigment can be a refreshing change. They can use it on the living room's gallery wall to add a suitable dose of intrigue.
The living room tends to be the luckiest place of all. You can never run out of color choices for this. From green to gray to pink to sky blue to brown, the palette offers exciting options.
back to menu ↑
Bathroom
You need this private space to relax and to be by yourself. It holds a sense of secrecy and privacy for you. When you feel tired, it helps you shake off your stress with a quick bath or dip. Hence, you can be more particular about how you adorn it. Designers believe this area needs flattering colors, such as steel grey, mellow yellow, crisp white, and so on. The best thing is each of these shades can accommodate a popular gold bathroom faucet seamlessly. So, if you were thinking of adding golden touch for its warmth and energy, you can rely on the hues mentioned earlier to fulfill your goal.
back to menu ↑
Bedroom
What do you expect from this part of your home? It should give you good sleep, make you feel fresh when you wake up in the morning, and basically, supercharged yet calm. For these reasons, you can find softer tones to be more appropriate. For example, the backdrop can be dusty purple, and you can apply black metal accents in the form of lighting, switches, frame of the bed, etc. On the softer side, even romantic and sweet dusty rose can also be an option. You can accentuate its mysterious smokiness with interior details, like a curvy headboard, a puffy pouf, etc. However, this bedroom will have a more feminine flavor.
Some people prefer cheerfulness in the bedroom, no matter how stressed out they feel. For them, bright blue can be the right thing. It is easy to perk up this background with floral and animal prints. However, if someone can be fearless with their selection, nothing can beat the decision to go with bold bubblegum pink. It represents youthfulness. To tone it down, you can introduce floral designs and a traditional dresser.
back to menu ↑
Kitchen
You need to have a distinct energy and air in this busy place, where you rustle healthy recipes for your loved ones. Hence, it is quite natural to have detailed expectations from its décor. You can go for hand-painted murals to tell a story or pattern. It wouldn't look much different from wallpaper at first glance. So, the choices of color for this can be cream for the base and lavender for the motifs. You can hang an intricate chandelier to revive its impact. On the ground, you can have neutral-colored cabinets to maintain classic elegance.
Or, if you enjoy the mid-century effect, you can choose low gloss black windows and the walls near them. The foreground can wear an inky look to dress up your kitchen in a contemporary style. Some designers believe that fresh and lively green can also do justice to this room. For some nature-inspired theme, you can select anything in the range of clover, pea, and lime. You don't have to apply this color all over the walls if you are afraid of going too far with it. Restrain its use to doors or trims. The green should be able to energize this place regardless of how you use it.
Sometimes, simple painting work can also have a massive impact on the appearance of a house. You don't have to change or replace old things. A few adjustments can do the trick as long as you pick the suitable color scheme for every corner and mix-and-match them well.
Just remember, even if you choose individual shades for each room, the house must look harmonious and organized.
You can leave any comment here for House Color Ideas Interior for Different Rooms!