It is calming to stay connected to nature. We feel connected to everything in our life when we are closer to plants, trees, birds, and nature in general. For this reason, many people like to add natural elements to their kitchen for a lively interior. This makes them want to complete their daily to-do lists and eat in peace.
Fortunately, there are many ways to incorporate natural elements into your space without much effort. We have explained how different things like brown kitchen cabinets, greenery, backsplash, etc., to help you create a beautiful kitchen.
Let's get started.
Brown Kitchen Cabinets
The inspiration to make your kitchen look more natural is to use brown kitchen cabinets. These cabinets offer a cheerful vibe, and if you manage to pair them right with other elements, you can try different interior styles, like contemporary, vintage, modern, etc.
For example, if you are designing a modern kitchen, you can use light brown kitchen cabinets and pair them with natural wood textures. This may include a wooden dining table, copper centerpiece, beige backdrop or wall color, and brown countertop.
You can add to this brown floor tiles or wooden flooring to enhance the look.
While this was an all-brown tone with brown kitchen cabinets, you can mix colors.
For example, keep wooden finish brown kitchen cabinets with one or two open shelves. You can pair this with a white marble countertop, white wall paint, and marble flooring. Add pleasant warm lighting.
back to menu ↑
Natural Light Source
The second thing you can include in a kitchen is a natural source of lighting. This would work best with all the other ideas, like a brown kitchen cabinet. Natural light tends to illuminate your space in the most beautiful and best way.
Ideally, our body tends to wake up with natural light. So, if you allow more natural light in your kitchen, you can be more cheerful in the morning. Further, as the sun sets, you would naturally feel the need to sleep.
Additionally, throughout the day, you will feel better with natural light touching your skin. This tends to enlighten your mood as well.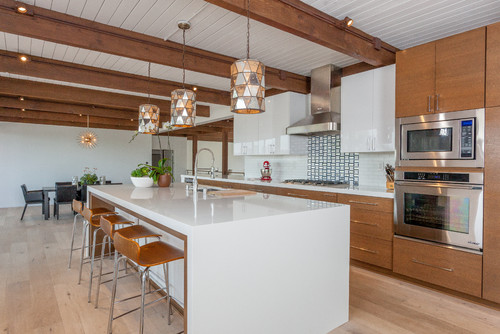 back to menu ↑
Open Kitchen
Another idea that you may love is an open kitchen. There are no constraints in this type of kitchen, it has so much space, and you can look into your hall and check up on your kids from the kitchen only. Of course, you need to keep this type of kitchen extremely clean. However, these kitchens are very welcoming and warm.
We tend to connect with food a lot. When you have an open space where you cook food, and it is clean with warm light coming in, you can create a beautiful natural space. Your family would enjoy time together while you are cooking and preparing food.
Remember that with an open kitchen, you have so many possibilities for the interior. You can have your dining room right next to the kitchen and follow the same theme throughout. For example, brown kitchen cabinets that match your brown dining table.
back to menu ↑
Greenery and Plants
The best way to add natural elements to your kitchen is to add greenery. You need to include some open shelves and add succulents and plants to these shelves. You can get lighting opens with plants hanging on from it. Your dining table can also have plants on it in the center in place of other fancy elements.
Another way to add plants and greenery in your kitchen is by the window, where you have left space for natural light to come in.
back to menu ↑
Wooden Shelves
There's nothing better than wooden shelves in your kitchen. We have already discussed this during brown kitchen cabinets. However, here, we are talking about adding open shelves in place of top cabinets in your kitchen. This may enhance the way you showcase your storage, dishes, and cutlery. You need to keep this space lively with plants and other elements, such as clear jars.
It is best to try adding natural tones to whatever you place on these cabinets. For example, bowls, storage jars, bar utensils, appliances, etc.
back to menu ↑
Stone Finish
The last option is stone finish, which includes a marble countertop, stone finish wall tiles, and white kitchen cabinets. The reason for adding white kitchen cabinets here is to complement other elements perfectly. Since we are going bold on other choices, such as countertop and wall pattern, it is best to keep kitchen cabinets neutral.
Further, you can either have a marble or wooden floor. If the overall tone is white or neutral, then the wooden floor may look nice.
One of the things that you can add to this kitchen is a stone fireplace. It will look amazing and accentuate the entire look. Also, try to get a marble-top dining table with black or brown chairs.
back to menu ↑
Conclusion
Creating a natural kitchen is not difficult. You only need to strike a chord and place the right elements in your kitchen. For example, pair your brown kitchen cabinets with other elements in your kitchen to give it an earthy look.
Explore the options we have discussed above and design your natural kitchen.