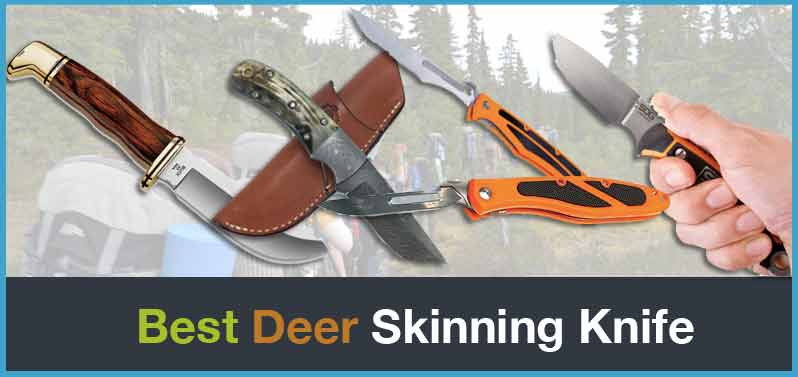 Do you love hunting and the outdoors? Well, if the answer is yes, there are a few tools you will need and a skinning knife is probably one of the most important ones. As the name suggests, skinning knives are used to skin prey. But they are quite multipurpose too. You can use them to cut and also to peal. The great thing is that there are so many brands to pick from.
Here's a list of our top 15 skinning knives in the market:
Havalon Piranta Z
Havalon is one of the leading blade manufacturers out there. The Havalon Piranta Z skinning knife is definitely one of their best products. It features a small and compact design for fiddly work. You also get multiple blades so you don't have to sharpen all the time. However, changing the blades can be dangerous if you are not used to it.
back to menu ↑
Bark River Fox
The Bark River Fox is a multipurpose skinning knife. It can perform a number of hunting tasks too. The blade is designed for maximum utility. It's also sharp and very durable. You get the chance to pick from three steel variations all of which are honed to a fine edge that cuts cleanly without a mess.
back to menu ↑
Benchmade 15001-2 Saddle MTN Skinner
The Benchmade 15001-2 Saddle MTN Skinner is also a worthwhile consideration. It is sharp right out of the box. You don't need to sharpen it either for a long time. We love the solid grip and the wooden handle feels very good on your hands. The blade is long making it easier to cut large chunks with one single swing. The leather sheath, however, doesn't fit right as we expected.
back to menu ↑
113 Ranger Skinner from Bucks
The stylish and elegant design of the 113 Ranger Skinner knife is probably its best selling point. The style is simply timeless. The knives are made in the US and come with Buck's forever warranty. The only challenge we found was on sharpening. It requires some skills to do it and this isn't good for a beginner.
back to menu ↑
Buck Knives 0103 BRS Cocobola Skinner Knife
Buck Knives has a reputation no doubt and its 0103 BRS Cocobola Skinner Knife should be one of the best options to go for. The solid wood grip makes it easier to use. It also features durable steel that retains sharpness for a very long time. The blade is relatively wider in the middle to cut deeper.
back to menu ↑
Outdoor Edge SwingBlade
The Outdoor Edge SwingBlade comes with two specialized blades. It has a strong and sturdy construction and this makes it ideal for intense jobs. The design is very unique. It's basically a novel approach to a multi-blade knife that can offer conventional skinning and cutting capabilities.
back to menu ↑
Old Timer 152OT Sharpfinger
The Old Timer is one of the most affordable skinning knives out there. It has a straight handle so there is better grip and precision every time you cut. It also has an upswept blade uniquely shaped to cut large surfaces at one go. The blade is super light and comes with its own customized leather sheath.
back to menu ↑
Tom Brown Tracker 3 from Top Knives
The Tom Brown Tracker 3 is not technically a skinning knife. It's basically a general purpose survival blade but don't let this fool you because it can really cut! It features highly durable construction that can withstand any weather. The upper part can also be used as a saw. This makes it easier for you to cut harder materials such as wood. The design is very elegant. It's just the ultimate multipurpose survival knife that can still offer great skinning when you need to.
back to menu ↑
Dalstrong Gladiator Series skinning knives
Dalstrong is a big name manufacturer in the knives space and its Gladiator series offers great value for hunters and chefs. It's a high performance, razor-sharp, and elegantly designed a skinning knife that's mostly used by top chefs. It delivers a precise cut to remove the skin without too much of the meat.
back to menu ↑
Meyerco MSG6241-BRK Guthook Skinner
The Meyerco Guthook is the ultimate skinning knife for people who are looking for style. It has a unique compact design that features a gut hook on the edge. The stainless steel construction has additional anti-glare features. We also loved the grip. Overall, the skinning knife is designed to camouflage in the woods, making it perfect for any hunter.
back to menu ↑
Elk Ridge Skinning Knife
The Elk Ridge Skinning Knife is specifically created for hunters. It can skin even the thickest of catches. The 7-inch straight blade cuts huge chunks in one go and the textured handle gives you the perfect grip. You also get a durable nylon carry sheath and a gut hook too. For its price, this skinning knife offers great features.
back to menu ↑
The Fox River Hunter
The Fox River Hunter is a combination of durability and stylish design. It can handle any kind of cutting job not just skinning. The handle is created from various durable materials. The versatility and high-quality craftsmanship are however two of its most dominant features. But it's quite expensive compared to the other options on the list.
back to menu ↑
Gerber Vital Skin and Gut Knife
The Gerber Vital Skin and Gut Knife is a highly proficient skinning knife that can be used outdoors and also in a normal kitchen. The blade is uniquely shaped to deliver maximum cutting efficiency. It can actually go through a large-sized game in a matter of minutes. The design is also attractive and you get excellent comfort on the grip.
back to menu ↑
The Mini Tac Skinner
The Mini Tac Skinner has a long cutting edge and a secure handle design. It's very easy on the hands too making it perfect for long knife works. The snug-fitting sheath was also a big advantage. The blade is relatively thin which means it's easier to sharpen and maintain.
back to menu ↑
Outdoor Edge RazorLite EDC Folding Knife
The Outdoor Edge RazorLite EDC is one of the best folding skinning knives out there. The knives come with multi blades too. The blades are extremely sharp and can easily be interchanged with a single push at the bottom.
For more about the skinning knives, you can visit: Top 15 best skinning knives in 2019 – Outdoor Life