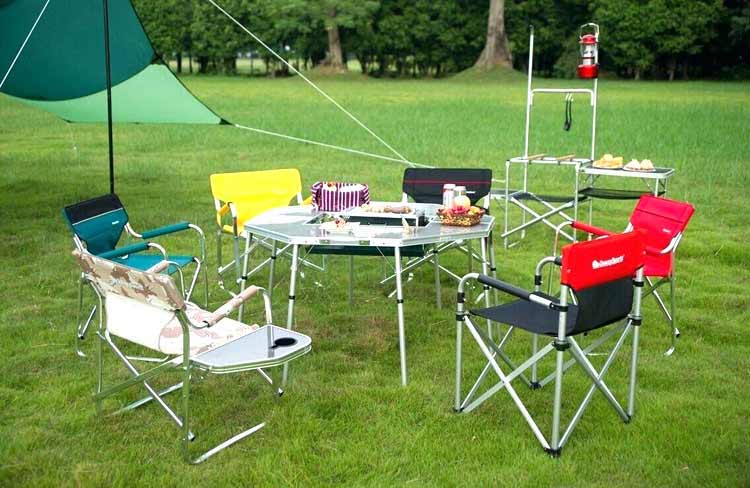 Camping is fun, especially if you can plan well. If you remember sitting by the fire, toasting marshmallows and sharing stories, you're probably wondering what's so difficult. It does not seem to be such complicated planning for such a restful night. Well, there is more in the field than that; and if it was not conscientious enough in planning and preparation, camping could be an uncomfortable and unpleasant task. There are things you should do and consider. As well as packing camping supplies and appropriate tables and chairs to ensure you have a happy and safe camp.
Best Guide To Choose the Right Camping Tables and Chairs
Camping Chairs
There's nothing like relaxing in your favorite camping chair after spending a day outdoors. But it is not always easy to find the perfect chair because there are a lot of price points and special features to buy. The best camping chairs are lightweight and easy to carry while you stay comfortable no matter how long you sit. They also need to be strong enough to withstand the elements and keep their balance on different terrains.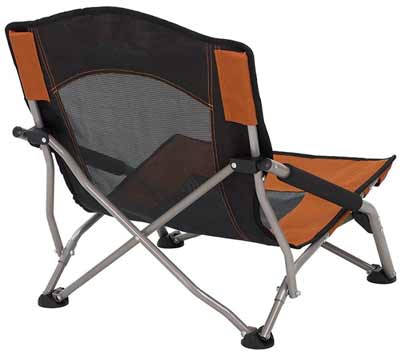 Coleman Oversized Quad Chair with Cooler
The top of the list for best camping chair. Coleman Oversized Quad Chair with Cooler has a long back, and a large padded seat to comfortably rest around a campfire. It includes a small two-can cooler or places up to four cans only on the insulated carrier. It folds easily and consists of a sturdy steel frame, and durable fabric that surpasses any discount chair you could find in a model.
back to menu ↑
GCI Outdoor RoadTrip Rocker Chair
The next best camping chair. GCI Outdoor RoadTrip Rocker Chair is new for the year 2018 and features padded armrests, and a comfortable mesh on the back for ventilation on hot summer days. The exclusive Spring Action Rocking technology allows you to enjoy the relaxation of the back and forth, even when you are in the forest. It has a sturdy structure with strong legs, but it's not too bulky when folded into its pocket. Also, GCI has a convenient drinking bag for you to catch a cold drink in the summer or relax in the winter with a hot chocolate by the fire.
back to menu ↑
Alps Mountaineering King Kong Chair
This chair is one of the best camping chairs that bring comfort to the next level. As soon as you bow, you'll soon understand why the company called this King Kong model. The chair is one of the largest and most durable on the market and can hold up to 800 pounds. It also has full padding with fabric that stays taut and does not fold when seated.
back to menu ↑
Nemo Stargaze Recliner Luxury Chair
The Nemo Stargaze Recliner Luxury, another best camping chair, is unique in its ability to swing and sit back. The chair fits effortlessly to sitting and swinging, leaning backward through the automatic tilt function, allowing users to relax and watch the stars or sunbathe. One can use the chair on almost any surface, including stones, sand, and irregular and uneven paths. This comfortable armchair is made from a lightweight but sturdy aluminum frame and features a pourable beverage holder for the drink of your choice. The oscillating motion is fluid and simple, while the configuration is intuitive, which means anyone can easily assemble it. The lack of a moveable footrest means that it has the advantage of being able to lie down without the extra space, and weight normally associated with a reclining seat and a beach chair.
back to menu ↑
Camping Tables
Looking for the best camping tables, don't worry? Our experts have spent months testing and rating some of the most famous and popular tables to find the best performers. Some were completely presented for an outstanding glamping experience, while others were simple and versatile. If you are tired of cooking on the floor and squatting while climbing, equipping your camping kitchen with a camping table is an exceptional luxury that should not break the bank. Read on to see which of these models were our favorite and most useful.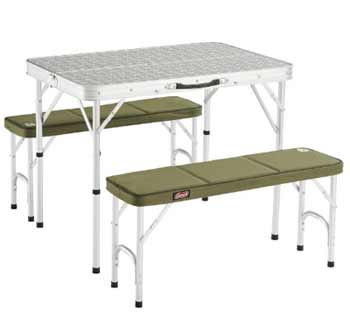 back to menu ↑
Lifetime 4428 Height Adjustable Folding Table
With a name that only an engineer can love, the folding table Lifting 4428 receives our Editor's Choice Award. Undoubtedly our best camping table, it was the model with the highest score we tested and the most practical and useful table we examined. It is stable, sturdy, portable and easy to install and dismantle. We love the surface of the table and its adjustable steel legs.
back to menu ↑
REI Co-op Camp Roll Table
The REI Co-op Camp Rolling Table is not just a cheaper version that you can consider if you have a limited budget. This best camping table has almost all attributes as our Editor's Choice award winner. It is extremely robust, very durable, portable and easy to configure. When we say that it won our Best Buy Award, we say that we are excited about the quality of this model – all at a price that exceeds the most expensive models that are nothing like the quality of the table.
back to menu ↑
Helinox Table One
Yes, it is a bit expensive. However, Helinox Table One is ideal for nautical applications outside the country. Such as backpacking or kayaking, which require lightweight and compact equipment. Also suitable as a table for a camping chair, this table can take a lot of weight. For short walks in the woods and walks in a picturesque spot. Another best camping table is easy to stow away or stand out of the backpack to add some comfort to your experience.
back to menu ↑
Camp Chef Sherpa Table
It's not the whole sink, but Camp Chef Sherpa table is our favorite camping table. It's not the biggest table, but we appreciate the organization of our kitchen appliances. The ease of installation and the lightweight design of the table. It is the best camping table for cooking food for a medium-sized field. While this model has plenty of storage space, it does not have enough space for cooking. It is designed to cook, not to hold a large water tank or lift a chair for a comfortable dinner.
There is no perfect table and chair for everyone. It is important to consider how to use the table and chair, what you are willing to pay for and what type of materials will best suit your intended outdoor use.
Feel free to leave any comments here!