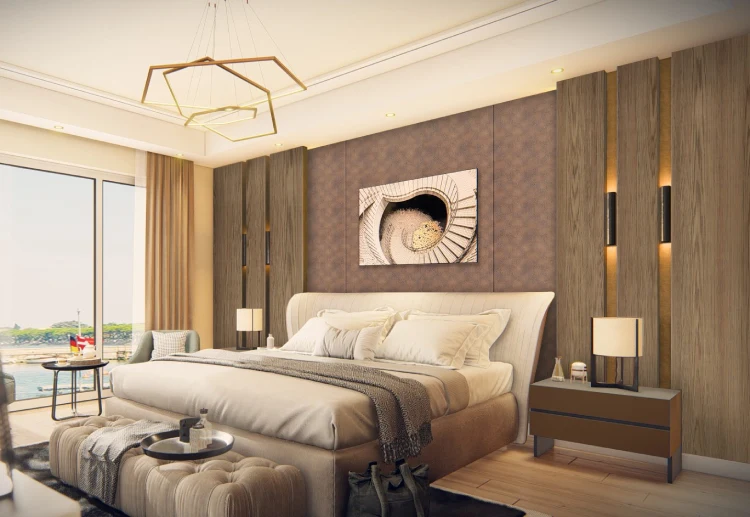 Bedroom Laminate Ideas for a Stunning and Practical Bedroom Design
When designing a bedroom, flooring is one of the most essential elements. This flooring option has become an increasingly popular choice due to its versatility, durability, and wide range of design options. If you're looking for ideas to create a stunning and practical bedroom design using laminate flooring, you're in the right place. Explore some creative and inspiring bedroom laminates ideas that can transform your space into a cosy retreat.
Rustic Elegance with Wood-look Laminate
Create a warm and inviting ambiance with wood-look laminate flooring. Whether you prefer the ageless appeal of oak, the rustic charm of wood, or the sleekness of cherry, wood-look laminate can add a touch of natural beauty to your bedroom. The texture and grain of the laminate mimic natural wood, giving your space an authentic look without maintenance concerns.
Sophisticated Simplicity with White Laminate
For a modern and minimalistic bedroom design, consider using white laminate flooring. White floors can instantly brighten a room, making it feel more spacious and airy. This versatile option complements various colour palettes and décor styles, allowing you to experiment with different bedding and furniture choices.
Bold Statements with Patterned Laminate
If you're feeling adventurous, why not make a bold statement with patterned laminate flooring? From intricate geometrical designs to artistic motifs, a great bedroom laminate combination can become the focal point of your bedroom. Keep the rest of the room's decor relatively simple to let the floor take center stage and create an eye-catching visual impact.
Classic Elegance with Dark Laminate
Dark laminate flooring exudes sophistication and elegance, making it an excellent choice for a luxurious bedroom design. Deep shades like mahogany, ebony, or walnut can create a cosy and intimate atmosphere. Pair them with richly coloured textiles and metallic accents for an opulent look.
Serene Retreat with Light Grey Laminate
Light grey laminate is a fantastic, timeless choice for a serene and calming bedroom space. This subtle and neutral tone, reminiscent of soft morning mists, can easily harmonise with various design elements, from contemporary to classic, providing a soothing backdrop for deep relaxation. Incorporate plush textiles, delicate patterns, and muted pastel colours for a tranquil oasis that promotes restful sleep and nurtures the soul, turning your bedroom into a rejuvenating sanctuary.
Contemporary Chic with High-Gloss Laminate
High-loss laminate flooring can be a game-changer if you aim for a contemporary and stylish bedroom. Its reflective surface adds a great touch of glamour and modernity to your space. Choose bold colours like black or deep red for a striking effect, or wear white for a sleek and minimalist vibe.
Cosy Warmth with Laminate and Area Rugs
Enhance the comfort and warmth of your bedroom by combining laminate flooring with strategically placed area rugs. Laminate provides a durable and easy-to-clean foundation, while area rugs add texture, colour, and softness. This combination is especially effective when you want your bedroom to feel extra cosy in colder months.
Seamless Flow with Laminate Matching the Rest of the House
For an open-concept home design, consider using the same laminate flooring throughout different spaces, including your bedroom. This creates a seamless flow and visual continuity, making your living space more extensive and cohesive. Select a laminate design that complements the overall theme of your home.
Conclusion
When designing your bedroom, the flooring sets the tone for the entire space. Bedroom laminates offer many design options, allowing you to achieve stunning aesthetics and practicality. Whether you opt for wood-look laminate, bold patterns, serene neutrals, or modern high-gloss finishes, a laminate style matches your vision. You can create a personal sanctuary that combines beauty and functionality perfectly by carefully selecting the suitable laminate for your bedroom.